Home improvement finance: Funding for a home office space
In the current climate, numerous individuals are required to work remotely, meaning that for some people there has never been a greater need for having an office space in their own home.
Creating a home office space has been achieved in a variety of different ways, which has included house extensions; converting existing rooms and even adapting garden shelters into studios.
One of the main factors that can impact the development of a home office space is the amount of funding secured to undertake the project.
Home improvement loans are therefore a pivotal component, which can significantly affect the success of creating a home office space.
Due to this, understanding the different types of home improvement loans available is an important step towards undertaking this project.
What is a home improvement loan?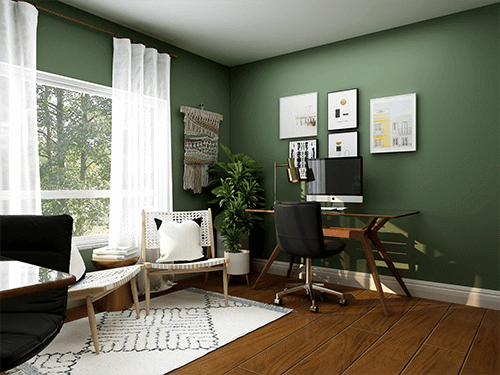 A home improvement loan is a funding option, which allows individuals to borrow a certain amount of money over an agreed time frame, in order to cover the costs of property improvements and renovations.
With this type of loan, individuals can successfully undertake home improvement projects, including developing a home office space.
Other property renovations may include upgrading the interior design, converting garages into a personal gym or even creating a driveway on your property.
What type of home improvement loan is suitable?
Home improvement loans can be either secured or unsecured.
Unsecured loans are a type of home improvement loan that can be used, which does not take any asset as security.
Lenders will therefore carefully consider the individuals credit history, to determine whether they are a suitable candidate to lend to.
Due to the fact that an asset is not used as security, lenders consider these individuals to be a higher financial risk.
Consequently, unsecured loans are typically harder to qualify for, the amount that can be borrowed can be limited and interest rates for individuals without good credit scores can be higher.
Unsecured loans may therefore be more appropriate for home offices which do not require a large amount of funding.
Secured loans are another type of home improvement loan, which uses an asset, usually a property, as security.
This means that your property could be repossessed by your lender if you default on your monthly repayments.
It is therefore important for individuals to meet their monthly repayments to ensure the safety of their property.
With a secured loan, the amount that can be borrowed is typically higher in comparison to other types of loans.
However, this does depend on other factors, including personal income, credit history and the available equity in the property.
As a secured loan may allow a larger amount of money to be borrowed, it may be more suitable for home office projects which require a substantial level of funding, or longer loan terms to keep monthly repayments low.
Ultimately, the home improvement loan required will vastly depend on the type of home office space being created, as different budgets may be needed.
Therefore, prior to taking out a home improvement loan, it is important for individuals to carefully consider all the funding options available to them.
Furthermore, taking out a loan carries risks, and so it is essential for individuals to assess what they can afford it and determine a suitable course of action based on their personal circumstances and affordability.
Think carefully before securing other debts against your home. Your home may be repossessed if you do not keep up repayments on a mortgage or any other debt secured on it.